Roof Repair Company
If all your roof needs is a little work, let River City Roofing Solutions roofing company give you a free roof inspection to help you determine the roofing repairs you might need. Whether it's flashing around a chimney, pipe boots, or where a section of your roof was damaged from hail or high winds during a storm, we're glad to help restore your life and house to normal!
Here's a few things that IKO Roofing Products recommends you look for when choosing a roofing company to repair your roof – click here
Hail and Wind Damage
Among the most damaging forces to a home's roof is hail. Here in North Alabama hail occurs within almost every severe thunderstorm in the Spring and Fall. If there is or has been hail in your area, it can slam through portions of the roof or at the very least crack some of your shingles and damage pipe boots, chimney flashing and gutters. Thunderstorms also produce high winds and you may find yourself with missing or damaged shingles. If your roof is older, then your shingles will likely be brittle. This means they are more likely to get blown off during these high wind situations. When your shingles are blown off, you will need to get them replaced immediately to avoid water leaking into your home.
When you suspect damage after a serious thunderstorm, the best thing you can do is call River City Roofing Solutions customer support line 24/7 at 256-274-8530 to inspect your roof for damage. Your Roof Inspector will show you if there is damage or not and begin the insurance claims process with you if damage is found. The important thing is that you have a trained professional inspect your roof – River City Roofing Solutions offers FREE Inspections.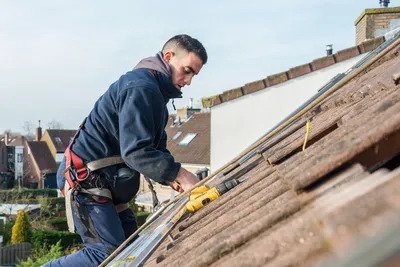 RIVER CITY ROOFING SOLUTIONS
3325 Central Parkway SW Decatur Al 35603
Available 24/7 – Call 256-274-8530
ROOF IN NEED OF REPAIR? FREE QUOTES CALL 256-274-8530