Roof Repair Company
If all your roof needs is a little work, let River City Roofing Solutions (RCRS) roofing company give you a free roof inspection to help you determine any roof repairs you might need. Whether it's flashing around a chimney, pipe boots, or where a section of your roof was damaged from hail or high winds during a storm, we're glad to help restore your life and house to normal! Below are some common reasons for roof repairs due to aging and direct damage to your roofing system.
Top Reasons for Roof Repairs
Leaks
One obvious reason for roof repairs is having a leaky roof due to a number of reasons listed below when routine repairs are not made in a timely manner. Typically severe damage to a roof is noticed immediately by the homeowner and repairs are made right away. But a slow leak in a roof, in many cases, is only caught by the homeowner as they begin to notice discoloration or swelling of interior materials on the ceiling or walls. At this point, there may be additional damage requiring costly repairs due to years of having a minor leak. These types of leaks can be avoided by having a maintenance plan or regular roof inspections.
Blistering, Cracking and Shrinking
Roofs exposed to extreme weather conditions can develop blisters and cracks. Built-up roofs covering a relatively flat surface are particularly susceptible and can go unnoticed without yearly inspections. Blisters can also be caused by poor attic ventilation. A well-maintained roofing system will have adequate ventilation to prevent your roof from getting too hot and excessive moisture building up in the attic space.
Over time roofing material can shrink leading to deterioration of critical roofing components. As the roof shrinks, gaps and cracks can form as it pulls the roofing material away from around chimneys, pipe boots and any adjoining area where flashing is used. Adding caulk or roofing cement is not a good long-term solution as even though they will seal out water, they will eventually harden, crack and cause leaks.
Overgrown Trees and Falling Tree Limbs
Trees that have grown too close to your house or have overhanging limbs can rub on a roof, wearing away the surface of the shingles and the protective top layer. Falling branches can also impact the roof creating even more serious damage. Trees should be trimmed back away from your roof as much as possible and large trees that threaten your home should be removed.
Clogged Gutters
The gutters on your home can become clogged, broken, or otherwise defective over time. This can cause water to not drain properly and eventually leak into the eaves or seep under shingles, where it can lead to rot. Routinely inspecting your gutters to make sure they are free of debris and broken parts can prevent such issues.
Hail and Wind Damage
Among the most damaging forces to a home's roof is hail. Here in North Alabama hail occurs within almost every severe thunderstorm in the Spring and Fall. If there has been hail in your area, it can slam through portions of the roof or at the very least crack some of your shingles and damage pipe boots, chimney flashing and gutters. Thunderstorms also produce high winds and you may find yourself with missing or damaged shingles. If your roof is older, then your shingles will likely be brittle. This means they are more likely to get blown off during these high wind situations. When your shingles are blown off, you will need to get them replaced immediately to avoid water leaking into your home.
When you suspect damage after a serious thunderstorm, the best thing you can do is call River City Roofing Solutions customer support line 24/7 at 256-274-8530 to inspect your roof for damage. If there is damage to your roof our licensed professional inspector will assist you with starting the insurance claims process. If there is no damage your roof the inspector will show you that as well. The important thing is that you have a trained professional inspect your roof along with experienced roofers to fix it – River City Roofing Solutions offers FREE Inspections. 
Improper Installation and Poor Repairs
We cannot stress enough on hiring professional, licensed and insured roofers from a roofing company with a good reputation and long track record. Hiring inexperienced or poorly qualified roofers who cut corners can cost you additional time and money having to fix a shoddily installed roof or roof repair. See our FAQs about What to Look For in Hiring the Right Roofing Company, Some Basic Tips for Hiring the Best Roofer and Steps for Hiring the Best Roofing Company.
The following are a few things that IKO Roofing Products recommends you look for when choosing a roofing company to repair your roof
Roofing Contractors Presentation and Your First Impressions
Roofing Professional Experience and Longevity
On-Going Roofing Education, Roofing License and Insurance
Other areas to consider include Communication Skills, Family Fit, Their Value to You and Reputation with References.  READ MORE AT IKO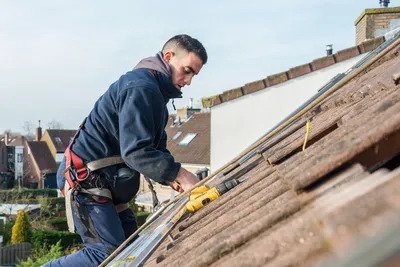 RIVER CITY ROOFING SOLUTIONS
3325 Central Parkway SW Decatur Al 35603
Available 24/7 – Call 256-274-8530
ROOF IN NEED OF REPAIR? FREE QUOTES CALL 256-274-8530