Roofing Contractor Decatur, AL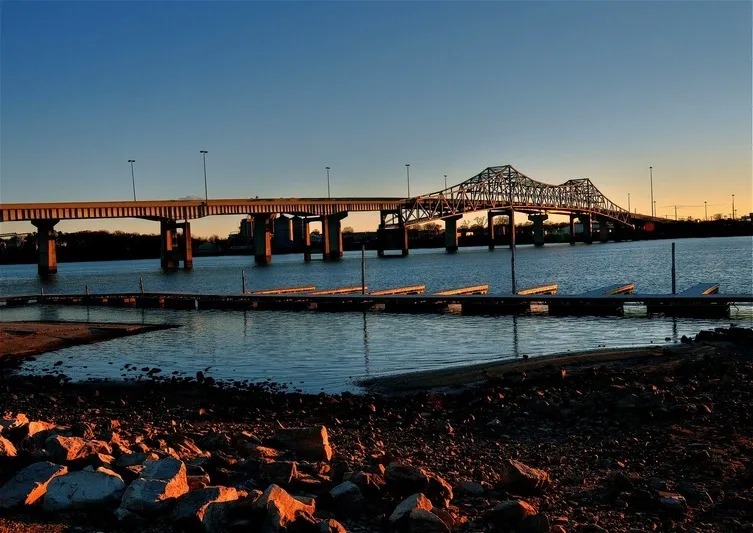 River City Roofing Solutions in Decatur, AL is a roofing contractor specializes in all types of roof installations, roof replacements, and repairs. We have years of experience as roofers working with a variety of roofing materials including traditional shingles, metal shingles, and metal roofing for commercial and residential roofing projects. Also, if you ever experience roof fire damage or storm damage from wind, hail or fallen trees, we offer emergency roof repairs 24/7.
Commercial or Residential Service: When it comes to roof repairs and roof replacements you must consider the types of services offered by the contractor. Sometimes, roofing contractors focus on specialties, such as traditional shingles, tile roofing or metal roofing. As such, it is essential you hire a roofer experienced in your type of property. For example, your commercial business may need a flat roof repair, but the contractor might only deal with residential roofing. Some companies can service both commercial and residential roofing, so you should check to make sure.
Add-On Services: It is advisable to hire roofing contractors who are willing to provide add-on services. These can include metal shingles along with the specific services you need at the same rate. For example, the price estimate they provide for installing a new roof can include removal of the old one.
When it comes to seeking and hiring the best roofing contractor in Decatur for your roofing project consider the following:
– Contact the local builder associations in Decatur, AL for recommendations on reputable roofing contractors

– Ensure the roofing contractor you choose is listed in local business directories

– Search online for customer reviews and feedback on roofing repairs and replacements from the roofer

– Visit the roofing contractor's website to review their portfolio of previous and current roofing repairs and replacement projects
For more information visit our FAQs page on what to look for in hiring the right roofing contractor and tips on hiring the best roofer.
River City Roofing Solution offers free roofing estimates and roofing finance options to fit your budget. We are licensed and insured in Decatur and all of North Alabama. Our mission is to provide the Best Roofing Experience to our customers.
River City Roofing Solutions is located at 3325 Central Parkway SW, Decatur, AL, and offers roofing services to Decatur, Huntsville, Madison and all of North Alabama.
WHAT PEOPLE IN DECATUR ARE SAYING
Tina Shankle Boyles
These guys are the best! I would totally recommend them to anyone that's needing a roof. Chris and Michael Muse have a very professional work ethic with years of experience there's no job they can't do so give them a call at River City Roofing Solutions you'll be glad you did. When they do a job it's done right.
Charity Ashby
My husband and I needed to have an emergency roof repair done on our roof. River City Roofing was recommended to us by our insurance company and they did us a huge favor by suggesting them!
Chris Muse met with my husband at our house the same day, quoted my husband a fair price and told us when he could have the job done. He kept his promises and has went above board to make sure that the job was done properly and that we wouldn't have any more problems. Chris' team is professional, neat, and made sure that the job wasn't just done with the work, they cleaned up great too.
Chris is very knowledgeable and experienced and it shows. He took the time to talk to my husband and myself many times to make sure we understood what needed to be done and why. We couldn't be happier with the job they have done for us. He saved us a lot of stress and heartache with our new (to us) home.
Thank you Chris, and your team, for being so kind, professional and knowledgeable.
Any home owner who chooses to work with you all is very fortunate… just like us!
Adam Rudell
GREAT people who have decades of experience handling roofing replacements, repairs and everything to do with protecting your home. These guys are the best at what they do – TRUST River City Roofing Solutions with your # 1 investment.
Bart Roberts
I worked with Chris Muse and Dustin Shariett, but the whole River City Roofing Solutions Team did an Excellent job getting my new roof put on. They also saved me a lot of money by working with my insurance company to make sure everything got covered. I would definitely use them again. Thanks so much !!!
There are many things to consider when having a roof installed, replaced or repaired including estimates, payments, warranties and contracts.
Estimate: Request several accurate and reliable estimates from different contractors for the roofing services you need before you begin any roofing project. You should always request a quote in writing before any work is done. For more information visit "What should I expect out of a roofing estimate?" on our FAQs page.
Payment: Before hiring a roofing company, you should ask them about payment and possible financing options. For more information visit, "What are my payment and financing options when hiring a roofer?" on our FAQs page.
Warranty: Any new roof or roof repair should come with a warranty. A good roof will last you for years and a company to back up that roof will aid you with any concerns in the future. For more information visit, "What should a roofing warranty cover?" on our FAQs page.
Contract: A professional roofer will give you a written contract before any work is done. The contract will have a complete and detailed estimate of the job. For more information visit, "What should I look for in a roofing contract?" on our FAQs page.
This site is protected by reCAPTCHA and the Google Privacy Policy and Terms of Service apply.
Hours
24 Hour On-Call Service
Emergency Services Available