Roofing Contractor in Decatur, AL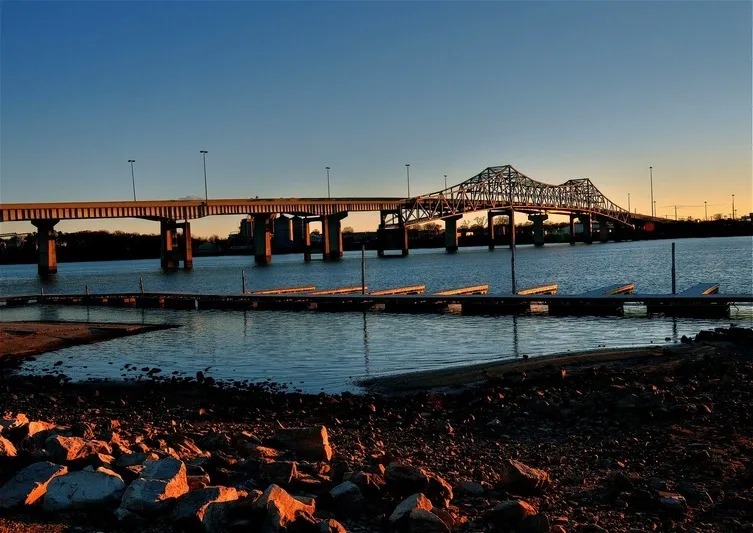 River City Roofing Solutions is a premier roofing contractor in Decatur, Alabama specializes in all types of roof installations, replacements, and repairs. We have years of experience as roofers working with a variety of roofing materials including traditional shingles, metal shingles, and metal roofing for commercial and residential roofing projects. As residents of North Alabama we are no strangers to severe weather. So, if you experience or suspect storm damage to your roof from wind, hail or fallen trees, we offer emergency roof repairs 24/7.
Commercial or Residential Roofer: When it comes to roof repairs and roof replacements you must consider the types of services offered by the roofer. Sometimes, roofing contractors focus on specialties, such as traditional shingles, tile roofing or metal roofing. As such, it is essential you hire a roofer experienced in your type of property. For example, your commercial business may need a flat roof repair, but the roofer might be a shingle roof contractor for residential areas. Some companies can service all types of roofing materials for both commercial and residential properties, so you should check to make sure. Whether you need a commercial flat roof or a shingle roof contractor, River City Roofing Solutions has you covered.
Add-On Roofing Services: It is advisable to hire a roofing contractor who is willing to provide add-on services. These can include metal shingles along with the specific services you need at the same rate. For example, the price estimate they provide for installing a new roof can include removal of the old one.
When it comes to seeking and hiring the best roofing contractor in Decatur, Madison or Huntsville Alabama for your roofing project consider the following:
– Contact the local builder associations in Decatur, Alabama for recommendations on reputable roofing contractors

– Ensure the roofing contractor you choose is listed in local business directories

– Search online customer reviews, your local BBB for accredited roofing contractors or ask your friends and neighbors feedback on their roofing repairs and replacements

– Visit the roofing contractor's website to review their portfolio of previous and current roofing repairs and roof replacement projects
For more information visit our FAQs page on what to look for in hiring the right roofing contractor and tips on hiring the best roofer.
River City Roofing Solution offers free roofing estimates and roofing finance options to fit your budget. We are licensed and insured in Decatur and all of North Alabama. Our mission is to provide the "Best Roofing Experience" for our customers.
River City Roofing Solutions is located at 3325 Central Parkway SW, Decatur, Alabama, and offers roofing services to Decatur, Huntsville, Madison and all of North Alabama.
Roofing Contractor Project Gallery
Decatur, Alabama
WHAT PEOPLE IN DECATUR ARE SAYING
Tina Shankle Boyles
These guys are the best! I would totally recommend them to anyone that's needing a roof. Chris and Michael Muse have a very professional work ethic with years of experience there's no job they can't do so give them a call at River City Roofing Solutions you'll be glad you did. When they do a job it's done right.
Brandon Raily
Very professional. Great shingles system. Very good communication and responsive. Thanks Rudy for helping us out and guiding us through our roof replacement.
Joshua Holloway
Excellent job with my new roof. The work was done on schedule and looks great. Ryan was awesome to work with.
Tara Cooley
Hunter was so kind and professional when he came to look at our roof. He didn't try to sell us on an entire new roof (when other companies have) and gave us so much helpful advice. He was at our house within 2 days of calling for an estimate. Whenever we do need a new roof, we will be calling Hunter at River City Roofing!
Aaron Payne
We haven't had much experience with roofers before. I contacted River City Roofers at the recommendation of locals in the area. We got to talk with Adam Rudley (Rudy), who came out and visited our newly purchased home. Turns out it was the same company who put the original roof on to begin with!
Rudy was an amazing help with providing information on what the previous work had covered and what they could do to help us out. We had to have a furnace boot removed since we changed from gas to electric. Rudy climbed up unto the roof and noticed the pipe inside the boot was loose and made a makeshift seal for us that same visit! He took pictures of everything we had questions about, spent well over an hour with us in discussion and even discussed some ways we could handle the situation ourselves until he could get his team out there to remedy the problem.
Rudy was not only informative, but he was incredibly pleasant and friendly to talk with. I would recommend him and his company to anyone needing roof repairs and estimates alike!
Thanks so much for all your help, Rudy!!
Charity Ashby
My husband and I needed to have an emergency roof repair done on our roof. River City Roofing was recommended to us by our insurance company and they did us a huge favor by suggesting them!
Chris Muse met with my husband at our house the same day, quoted my husband a fair price and told us when he could have the job done. He kept his promises and has went above board to make sure that the job was done properly and that we wouldn't have any more problems. Chris' team is professional, neat, and made sure that the job wasn't just done with the work, they cleaned up great too.
Chris is very knowledgeable and experienced and it shows. He took the time to talk to my husband and myself many times to make sure we understood what needed to be done and why. We couldn't be happier with the job they have done for us. He saved us a lot of stress and heartache with our new (to us) home.
Thank you Chris, and your team, for being so kind, professional and knowledgeable.
Any home owner who chooses to work with you all is very fortunate… just like us!
Jessica Morey
Rick Geahr did and excellent job in helping me though the process of getting a new roof. He answered all of my questions and was a joy to work with. He even pointed out some things I was not aware of. I definitely recommend him and his company if you're in need of a roof or roof repairs.
Bama Dad
These folks are great! Their attention to detail and quality is unmatched! They are very responsive and very honest. No hidden surprises. Highly recommend them.
Nicholas DeWeese
Aaron Lussi was a great salesman. Did everything we agreed to did it very prompt and fast. The roof looks amazing and the quality is great. Would definitely recommend the company very professional and quality work.
Things to Consider When Having a Roof Installed
Estimate:
Request several accurate and reliable estimates from different contractors for the roofing services you need before you begin any roofing project. You should always request a quote in writing before any work is done. For more information visit "What should I expect out of a roofing estimate?" on our FAQs page.
Payment:
Before hiring a roofing company, you should ask them about payment and possible financing options. For more information visit, "What are my payment and financing options when hiring a roofer?" on our FAQs page.
Warranty:
Any new roof or roof repair should come with a warranty. A good roof will last you for years and a longstanding company to back up that roof will aid you with any concerns in the future. For more information visit, "What should a roofing warranty cover?" on our FAQs page.
Contract:
A professional roofer will give you a written contract before any work is done. The contract will have a complete and detailed estimate of the job. For more information visit, "What should I look for in a roofing contract?" on our FAQs page.
This site is protected by reCAPTCHA and the Google Privacy Policy and Terms of Service apply.
Hours
24 Hour On-Call Service
Emergency Services Available