Commercial Roof Replacement & Repair
River City Roofing Solutions (RCRS) is proud to be your roofing contractor for Commercial Roofing Replacement & Repair! We have years of experience in working with a variety of roofing materials including traditional shingles, metal shingles and metal roofing for commercial roofing projects.
How do you find the best options to suit your Commercial Roofing needs, especially on a Flat (or no pitch) Roof?  Our roofing experts are here to help answer any questions you might have about the best roofing solution for your commercial building. There are a large number of options available.
Heat Welded Roofing System
A commercial heat-welded roof is where the seams of the roofing membrane have been fused together by applying heat. In most roofing systems, the seams are generally the weakest point and heat welding produces extremely strong seams. This type of roofing application is a great choice no matter the slope, configuration or wind exposure. Also, the welding can be done in cold weather when applying adhesives and asphalt is difficult. READ MORE
Fully Adhered Roofing Systems
Fully adhered roofing systems are aesthetically pleasing, with the least amount of membrane fluttering, since the entire membrane is bonded to the insulation and not just mechanically fastened in a pattern. Fully Adhered Roofing Systems include those that are adhered with hot mopped asphalt to allow joining of the roofing membrane to the substrate. The adhesive is applied to both the rigid roofing insulation and the roofing membrane. Once the membrane is placed on top of the rigid insulation a weighted roller is used to create a tight bond. One key to a properly installed adhered roofing system is the insulation must be thoroughly fastened down. READ MORE
Built-Up Roofing Systems
Built-Up Roofing (BUR) Systems are composed of layers of roofing asphalt and asphalt felts, which are installed so the multiple interwoven plies form a roofing membrane. The key to this system is the repetitive layering of durable materials. READ MORE
Self-Adhered Roofing Systems
Self-Adhered Roofing Systems are ideal for flat applications on expansive roofs for large retail and commercial facilities, equally versatile as a base or cap sheet and as a flashing detail design for flame sensitive applications. IKO adhesive products provide a quick-drying surface preparation for installing these membranes. READ MORE
APP Modified Bitumen Roofing Systems
The durability of asphalt based APP modified bitumen roofing systems tough, plastic-type qualities provide an outstanding choice for the demands of today's commercial office buildings and warehouses. APP modified bitumen roofing systems are asphalt based and constructed of a tough non-woven reinforced polyester mat strengthened with select glass fiber strands treated with Atactic Polypropylene (APP) polymers to impart "plastic" type qualities. READ MORE
READ MORE about commercial roofing options at the IKO Commercial Roofing Products Website.
Each Commercial Roof Replacement by RCRS is Backed by
Our 5-year Workmanship Warranty!
Our mission at River City Roofing Solutions is to provide the Best Roofing Experience to our customers. Our roofers are licensed and ready to serve all your roofing installation and roofing repair needs.
Ask your Roof Inspector today about all your commercial roofing options or call us at 256-274-8530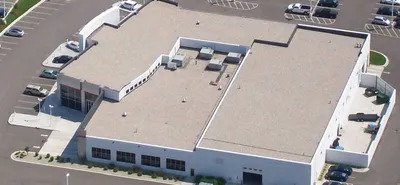 Have a Commercial Roof that presents challenges? Trust the Experts at River City Roofing Solutions!
RIVER CITY ROOFING SOLUTIONS
3325 Central Parkway SW Decatur Al 35603
Available 24/7 – Call 256-274-8530