Roofing Contractors in Madison, Alabama
Consider Roofing Contractors in Madison, AL
The part of your house that gets the maximum exposure to the environmental extremities is the roof. It has to provide you with protection and shelter while being constantly exposed to the extremities of the weather. It is therefore essential to maintain and repair your house roof on a regular basis for them to function appropriately.
Roofing Contractors Madison AL: Why Choose Us
It is, however, not possible for laypersons to know the details of the maintenance regime required for keeping up the functionality of your house roof. Therefore, it is advisable to contact a reliable roofing contractor in Madison, AL, to get adequate advice on how to take good care of your roof.
Let us discuss the various important factors that need to be considered while hiring a roofing contractor:
Reputation:
It is essential to check the status of the roofing companies in Madison, AL before you decide to hire them. You can check online for customer reviews and feedback, or ask your friends and other acquaintances to know the reputation of the contractors in the market. Our roofers in Madison, AL, have years of experience in roofing work.
The reputation a contractor earns for themselves is the most significant factor in helping you to decide what to expect from them. Also, financing factors play a crucial role.
Experience:
Experience is another crucial aspect that you need to consider before choosing a roofing contractor in Madison, AL. The contractor you hire must have extensive experience in the field of roofing to appropriately understand your requirements and preferences. We have experience in fixing various types of roofs like metal roofing in Madison, AL, etc.
A contractor lacking adequate experience cannot possibly understand your expectations and needs. Moreover, it is also important to understand their field of expertise. For example, a contractor specializing in providing services for tile roofing cannot possibly understand your requirements regarding a composite roof.
Estimate:
Before you hire a roofing contractor, make sure they provide you with an accurate and thorough price estimate for the roofing services in Madison, AL, that you need. Interview them thoroughly to know the quality of the products they would use. We also have roofing contractors in Decatur, AL, who will help you in other locations as well.
It is also a wise idea to make a comparison between various contractors and evaluate the price estimates provided by them to determine the most suitable one for you. We offer quick quotes on roof repair in Madison, AL.
Avoid Making Advance Payments:
Always avoid roofing contractors who demand advance payments before the roofing in Madison, AL, is accomplished or even started. Remember, contractors having the reputation of providing efficient and reliable services would never ask for advance payments. And in case they do, it would not be advisable to rely on them. It is also important to make sure that the roofing materials they use are warranted.
Services
You must consider the types of services offered by the contractor. Sometimes, roofing companies in Madison AL focus on specialties, such as shingles or metal roofing. However, you might have a flat roof in Madison, AL.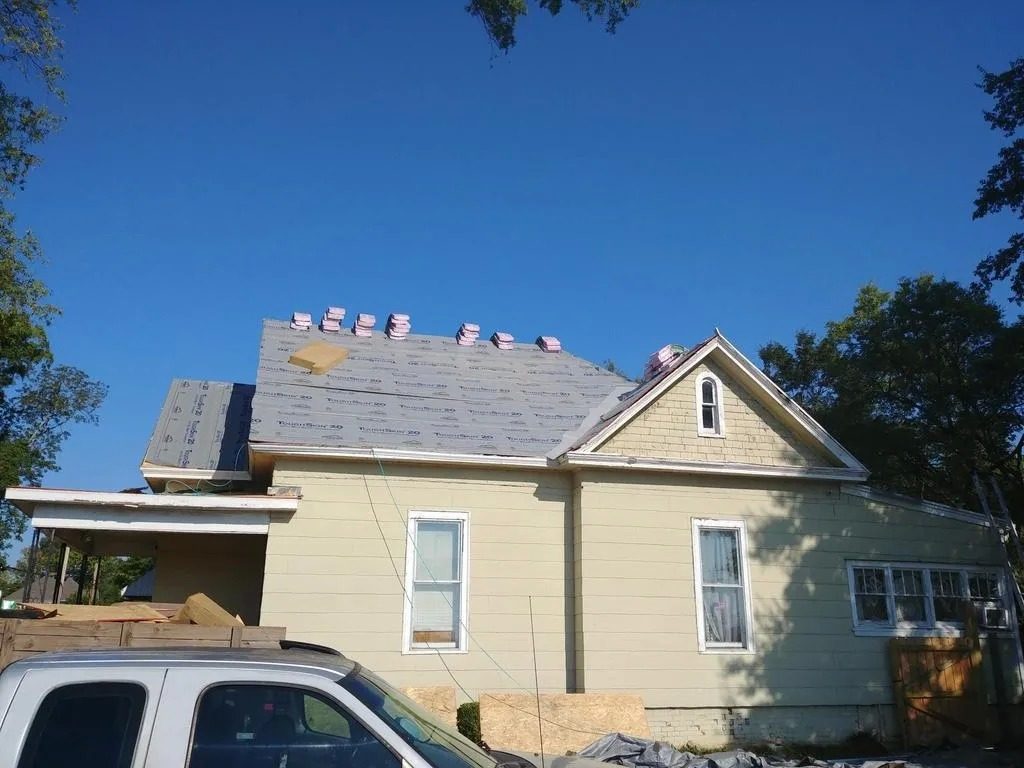 As such, it is also essential that you hire a roofer that handles your type of property. For example, you might have a house (residential building), but that contractor might only deal with commercial properties. Some companies can service both options, so you should check to make sure.
Add-On Services:
It is always advisable to hire roofing contractors who are willing to provide add-on services. These can include metal shingles, along with the specific services you need at the same rate. For example, the price estimate they provide for installing a new roof can include removal of the old one.
You should always request a quote in writing before any work is done. This protects you and the company. For example, you won't be surprised with a high bill at the end of the project because everything is listed on the estimate. Plus, everything should be itemized, including the materials. As such, you can make sure that the right nails, roofing supplies, and products are going to be used.
If necessary, you can also ask questions about the estimate so that you are well-aware of what is going to be done. We understand that you may not understand the technical terms, so we make ourselves available to help you.
Discounts:
Various contractors are providing attractive discounts and packages on the roofing services you require. You can make a thorough comparison between the different packages offered by the multiple contractors and choose the most appropriate one with regard to your needs and affordability. We also provide emergency services at the best prices.
License:
Last, but not least, always make sure that you hire a roofing contractor with a license to provide services in the field of roofing and within your state. It is ideal to choose a contractor who is licensed and insured to protect you and them. River City Roofing Solutions is the best option from which to choose.
Make sure that the licensure lists everything that the contractor can do. Some states require itemization to ensure that the client understands what is available. You'll find that we know how to work with traditional shingles, as well as a variety of other roofing materials.
Where We're Located
While you may not need to come to our location, it can be helpful to learn about where we are so that you have a better idea. We're located in Zipcode 35603 and are open 24 hours for your convenience. It's rare for our contractors to take a day off, so someone is available to help regardless of the day.
Our address is 3325 Central Parkway SW, Decatur, AL, but we serve a variety of Zip codes, including 35757, 35756, 35758, 35602, 35601, 35609, 35603, and all of the Huntsville area.
If you do happen to come to our physical location, you'll find a variety of things near to us, such as Valley Budweiser, a variety of apartment buildings, and churches.
Fill out our short form to request a free roof inspection today!
WHAT PEOPLE IN MADISON ARE SAYING
Dale Carter
I recently called Michael Muse for a job needed done for one of my clients. He had me an estimate that day and the job completed the next. I highly recommend these guys to anyone. It was a great experience for my clients who were able to get their home to close on time.
Patti Watson-Mullins
Reliable, Honest and a man of his word!
Amy Dennis
They put the roof on my parents house. Amazing done right quality.
This site is protected by reCAPTCHA and the Google Privacy Policy and Terms of Service apply.
Hours
24 Hour On-Call Service
Emergency Services Available