Roofing Company Madison, AL
If you live in Madison, AL and need a roofing company who specializes in all types of roof repairs, installations, replacements and emergency roofing needs then contact River City Roofing Solutions. We have years of experience as roofers working with a variety of roofing materials including traditional shingles, metal shingles and metal roofing. As a shingle roof contractor in Madison we can offer you a great selection of the best quality shingles. Our mission is to provide the "Best Roofing Experience" to our customers.
WHAT PEOPLE IN MADISON, ALABAMA
ARE SAYING
Dale Carter
I recently called Michael Muse for a job needed done for one of my clients. He had me an estimate that day and the job completed the next. I highly recommend these guys to anyone. It was a great experience for my clients who were able to get their home to close on time.
Patti Watson-Mullins
Reliable, Honest and a man of his word!
Amy Dennis
They put the roof on my parents house. Amazing done right quality.
Hiring the Right Roofing Company
The part of your house that gets the maximum exposure to the environmental extremities is the roof. It has to provide you with protection and shelter while being constantly exposed to weather extremes and the change of seasons. It is therefore essential to maintain and repair your roof on a regular basis for them to function appropriately.
It is, however, not possible for laypersons to know the details of the maintenance regime required for keeping up the functionality of your residential roof. Therefore, it is advisable to contact a reliable roofing company in Madison, AL to get adequate advice on how to take good care of your roof.
Several important aspects to keep in mind when hiring a roofing company are their reputation, experience and knowledge along with making sure they are licensed and insured.
Reputation: It is essential to check the reputation of roofing companies before you decide to hire one by checking online customer reviews and feedback, or ask your friends and neighbors. The reputation a roofing contractor earns is the most significant factor in helping you to decide what to expect from them.
Experience: Another crucial aspect is choosing an experienced roofing company in Madison, Alabama to make sure they can understand your requirements and preferences. Roofers should have a wide range of roofing experience working with homes of all styles, shapes, and sizes using all kinds of roofing materials with portfolios and testimonials to back it up.
Knowledgeable: The roofing company you hire in Madison, Alabama should be knowledgeable of all the latest trends in the roofing industry, incorporate designs into a finished product, and match your roofing needs with a reliable solution. They should also have extensive knowledge on how to locate and fix roof repair problems.
Licensed and Insured: Last, but not least, always make sure you hire a roofing company with the proper state roofing license along with insurance to protect you. This will ensure you're hiring a legitimate roofer who knows what they are doing, and conducts business in the right manner. Before hiring a commercial roofing contractor, ask them for a copy of their General Liability Insurance and Workers Compensation Insurance policy to safeguard your assets and yourself in case any of their workers gets injured during the job.
River City Roofing Solutions has a great reputation and years of experience in roof installations, roof replacements and roof repairs. We have working knowledge in a variety of roofing materials including traditional shingles, metal shingles and metal roofing. RCRS is licensed and insured for Madison and all of North Alabama.
Roofing Services:
When it comes to roof repairs and roof replacements you must consider the types of services offered by the roofing company you choose in Madison, Alabama. Sometimes, roofing contractors focus on specialties, such as traditional shingles, tile roofing or metal roofing. As such, it is also essential you hire a roofer that handles your type of property. For example, you might have a residential home, but that contractor might only deal with commercial roofing and properties. Some companies can service both residential and commercial roofing, so you should check to make sure.
Add-On Services: It is always advisable to hire roofing contractors who are willing to provide add-on services. These can include metal shingles along with the specific services you need at the same rate. For example, the price estimate they provide for installing a new roof can include removal of the old one.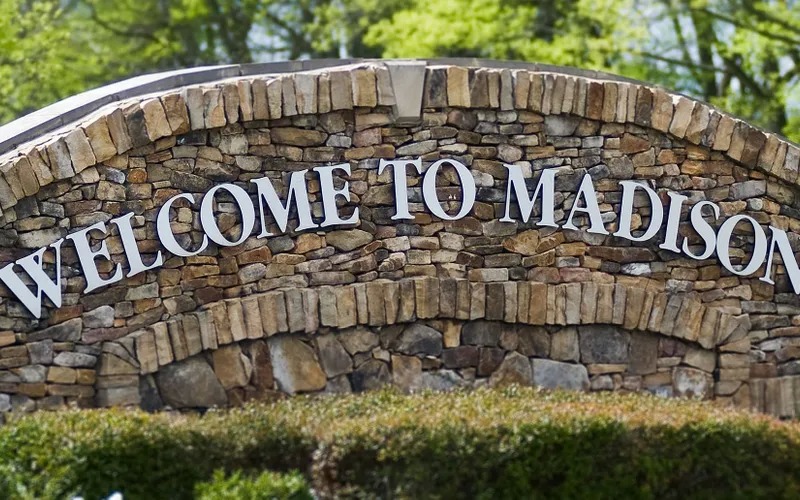 Tips for Hiring the Best Roofing Company
Avoid Money Upfront: Always avoid door-to-door roofers looking for roof repairs and who demand advance payments. They may offer a cheap price and expect the money upfront only to never be seen or heard from again.
Recommendations: To get started, ask your family, friends and neighbors for recommendations they might have for a professional roofing company. You can also contact the local builders association and see if they can offer some suggestions. 
Research: With a list of roofing companies in your hand, check to see if they are licensed, insured and listed with local building associations. Also, search their reviews online and read what other people have to say about them. Visit the websites of potential roofing companies and look at their portfolio of roofing repairs and replacement projects. 
Contact: Now with just a few names on your list, contact each roofing company and ask them to visit your premises, do an evaluation and give you an estimate for the roofing project. In the process, interview them thoroughly to know the quality of roofing products they would use. 
Estimates: Before you hire a roofing company, make sure they provide you with an accurate and thorough estimate for the roofing services you need. The roofing estimate should be itemized to include the list of materials and labor involved, including removing the old roof, clean up and disposal.
Discounts: Various roofing contractors are providing attractive discounts and packages on the roofing services you require. You can make a thorough comparison between the different packages offered by the multiple contractors and choose the most appropriate one with regard to your needs and affordability.
Warranty: Any new roof that you have installed, or roof repair made on your home, should come with a warranty. This will ensure that you are protected from material flaws or mishaps in the installation or construction of your roof that should never have happened.
Contract: A professional roofing company will give you a written contract before any work is done. Review the details of the contract very carefully and see whether everything included concerning the project has been listed in the agreement. From the dates of starting and completion, to the roofing materials, labor involved and all warranty details.
Keeping all these tips in mind will help you hire a professional roofing company in Madison, AL. River City Roofing Solutions is available to answer your roofing questions and 24 hours a day, seven days a week for your emergency roofing needs. We offer quick free roofing quotes for quality roof repairs and replacements in Madison, AL.
While you may not need to come to our location, it can be helpful to learn about where we are so that you have a better idea. Our address is 3325 Central Parkway SW, Decatur, AL, but we service the Madison, AL area and all of North Alabama
Fill out our short form to request a free roof inspection today!
This site is protected by reCAPTCHA and the Google Privacy Policy and Terms of Service apply.
Hours
24 Hour On-Call Service
Emergency Services Available